Contact Us
Product Center
Mono-crystalline Silicon Solar Module 30W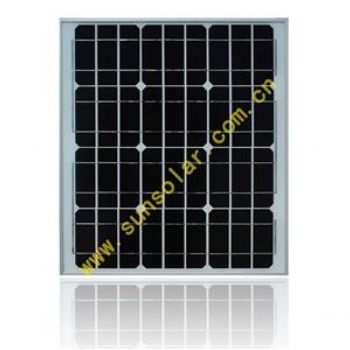 Model: SUN30M-12
Description:
Monocrystalline or Polycrystalline solar cells, range from 5Wp to 290Wp.
Unique frame design to reinforce sealing and there are drainage holes on the border components, eliminate the framework of deformation caused by rain or snow accumulated in the framework.
Strong aluminum frames to strengthen the load hold and to stand against high wind.
Special mounting holes on the frames suitable for long term mounting.
High transparency low iron tempered glass with enhanced stiffness and impact resistance property.
Advanced EVA encapsulation system with multi-layer back sheets to better product modules
Specifications for Mono-crystalline Silicon Solar Module with 30W Maximum Power


If Mono-crystalline Silicon Solar Module 30W product is not what you want, we can be customized according to your needs, please send us your order to Email:
lisa@sunsolar.com.cn
, or
click here
to post your buying lead.
Mono-crystalline Silicon Solar Module 30W Manufacturer,Supplier&Factory
search on:
Google
,
Yahoo
,
Msn