Contact Us
Wind & PV Hybrid System
We not only produce solar panels and solar modules, but also provide different solar application solutions: large or small on grid solar power system or off grid solar power system, commercial and industrial building solar system or home and residential solar system, roof-top solar system or ground mounting solar system...We are your reliable consultant for your solar solutions.
Solar Cellular Base Station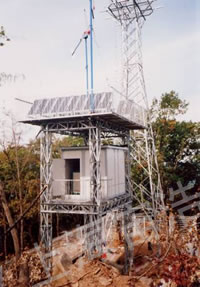 Type: wind and solar hybrid/ off-gird/ commercial
Power output: 3kw solar power+1kw wind power
Location: Liaoning, China
Installation Date: 2005
Brief introduction: This base station was set up in a remote place in Liaoning Province, used for receiving the microwave signals in communications. It is a wind and PV hybrid system, consisting of 30 pieces of 100w solar panels and one piece of 1000w wind turbine. The batteries can keep the system working for two weeks without sunlight. No optical cables were needed, and the system was easily installed. It is particularly suitable for such occasions without guards.